Reuniting for a short US tour in the wake of the vinyl re-release of their seminal album Emergency & I, Washington, D.C. spent this past weekend giving The Dismemberment Plan a big ol' hug. Tickets for this show went on sale (and promptly sold out) months ago, and the frenzy around this and the two at the 9:30 Club show was at a fever pitch.
The show itself was a lot of fun. The band were enjoying themselves onstage and that energy spilled out into the audience. I arrived at 8:30 for the 9 p.m. doors and secured a spot up front along with some other photographers. No photo pit meant standing in one spot for the entire night, but the lighting at the Cat was just fine and I had no problems getting the shots I needed.
I rented a 24/1.4 for this show and it came in handy. That said, I don't think I would buy that lens. It's too wide, and i can't see me using it on a regular basis. Seems like the 35/1.4 would be a wiser purchase next time I have $1500 burning a hole in my pocket.
Check out the full photo set below. Click on any of the photos here if you'd like to purchase a print.

Dismemberment Plan @ Black Cat – Images by Kyle Gustafson
---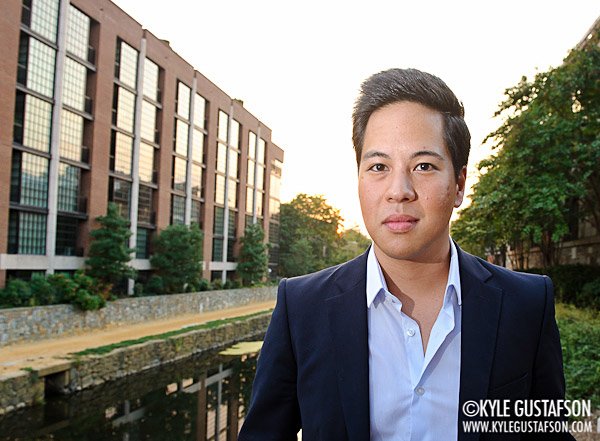 Back in September I met up with Pranav Vora, Founder & CEO of Hugh & Crye, for a DCist story on Fashion Week. Hugh & Crye is a start-up located here in D.C. that makes high end men's dress shirts and ties. The shirts are designed specifically to fit better than most off the rack shirts. They do this by eschewing regular sleeve and collar sizes and instead size their shirts by body type. I was skeptical at first but then I tried on one of their shirts and it fit me perfectly.
A few days later I did a short fashion shoot with Pranav, Customer Service guru Philip Soriano and their friend Myca Ferrer, who acted as our model. We traipsed around Georgetown for a few hours, shooting different looks at different locations. It was my first "fashion shoot" and it was a lot of fun. I was pretty happy with the results and so was Pranav, some of my shots are now featured on the Hugh & Crye website. And as for the product, I now own four Hugh & Crye shirts and I wear them as often as I can. If you are tired of dress shorts that are too baggy and don't fit right, be sure to give Hugh & Crye a look.
---