A few weeks I found a spare moment to send an email to my favorite camera bag manufacturer, Crumpler, to tell them a few of the things I didn't like about my otherwise awesome 7 Million Dollar Home bag. So as to not to digress too far before I even get started here, I will save that for another blog post. Crumpler responded fairly quickly and basically said, "OK smart guy, if you know so much about camera bags, why don't you try out our new sling bag, The Enthusiast and let us know what you think?" Since I had a trip to Sweden and Denmark on my horizon, I took them up on the offer.
I prefer to travel light when I am on vacation and the bag intrigued me even though I mainly detest sling bags. The thing about the sling bags I have owned and tried out is, in my experience, they don't hold their shape very well. A heavy piece of equipment will distort the bag and make it uncomfortable to wear. So would The Enthusiast hold up on a trip through Scandinavia? I am very happy to report that it did.
The Enthusiast is a very compact bag but I didn't have any problems fitting my gear and travel items inside, as you can see from the photo above. From left to right, my North Face jacket, A Kindle and soft cover, Nikon D700 w/ 24-70/2.8 (I actually took a 16-35/f4 on the trip but it was a rental and I have since returned the lens. The 24-70 is slightly longer than the 16-35 but still fits in the bag), 35/f2, iPad, sunblock, USB camera cord with iPad camera connector, 85/1.4, passport holder and sunglasses case. The bag's structure is your basic camera compartment on the bottom and general packing space on top that dominates most camera backpacks these days. But The Enthusiast had a few qualities that make it stand out from the crowd. It's built very solidly, as all Crumpler bags are, and is very rugged. This thing made it halfway across the world and back with nary a scratch. It's small enough to fit in any and all baggage spaces on trains and planes and holds its shape really well. I wore this thing all day, every day for 10 days without complaint.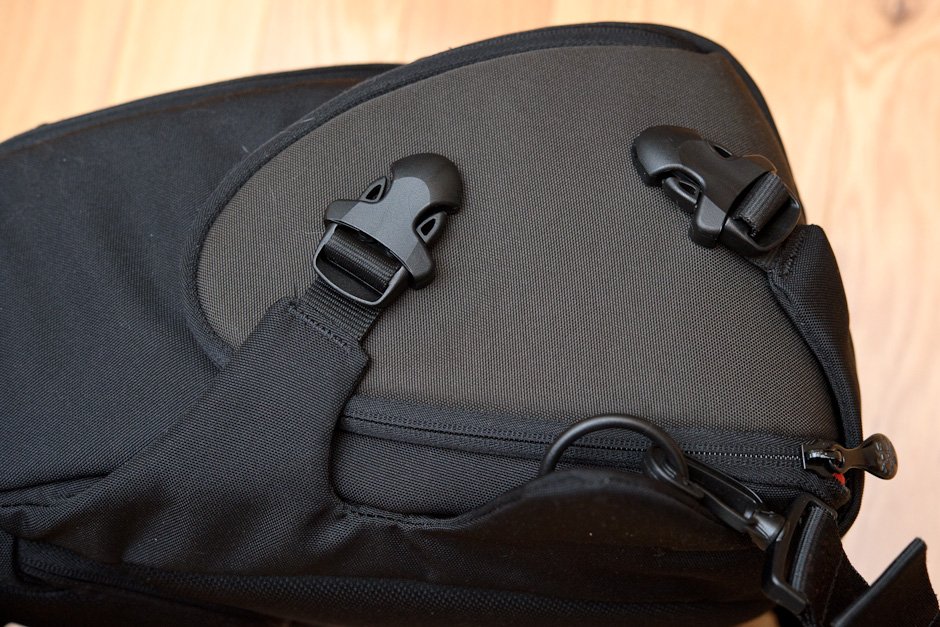 The camera compartment is secured on each side of the bag by zippers and two plastic clasps. This is big because 1) your gear isn't going to fall out accidentally, and 2) you can switch the strap to either side of the bag depending on how you want to access the contents inside. The second feature is really nice and something I appreciated.
Another feature I loved about this bag is that there are two different ways to unhook the shoulder strap when you want to take the bag off. You can unhook the secondary strap (at the white Crumpler logo) and slip the bag over your head, or you can unhook the main strap from the bag itself and slip it right off without hauling the bag over your head. This versatility makes the bag very easy to take off and that's not something you can say about every sling bag. The main strap is padded well so it never becomes uncomfortable.
All the clasps on the bag are made of plastic, but they are very heavy duty  and both straps have swivels on their bases, so it's easy to make sure the straps are aligned properly. Again, it's the little things.
The main storage area looked tiny when I first inspected the bag, but I was pleasantly surprised at all the things it could hold. It was really nice to have the option of stuffing my jacket in there when it got warm in the afternoon, and again, the bag held it's shape just fine. There's also a back pocket, basically a small laptop sleeve that is designed to hold an iPad. You could also get an 11 inch Macbook Air in there but it's a very tight fit. I brought my Kindle on my trip along with my iPad and it fit just fine in the main area along with everything else. I also kept our passports in the main compartment. It was super easy to get them out whenever we needed access.
There are three small pockets under the gray flap in the photo above and they are very handy for stashing credit cards, metro passes and receipts.
Here's my Nikon D700 in the camera compartment. I will admit it was a bit if a snug fit, but if you have a smaller camera, like the D7000 or the new D600, I bet the fit is perfect. I also stashed my 35/f2 and a few cords and things in here. The bag comes with three dividers, I just took one of them out in order to fit my camera and lens. If you gear is smaller than mine, you'll be able to fit more in there.
Two other features of this bag I really loved were the padded handle on top of the bag and the bag's ability to sit up straight when placed on the ground. There's nothing worse than a bag that falls over every time you set it down and this bag doesn't do that.  The top handle is very large and easy to grab a hold of. It's also fully padded with foam, so it's handles easily.
Overall I thought this was the perfect day bag for the photographer that travels light and doesn't need to bring every piece of gear they own with them. The bag is small but you can pack plenty of things in it, so it's perfect for urban areas, crowds and public transportation. I never had to worry about banging someone in the head when I turned around in a tight space. The bag's construction is rugged and is backed by Crumpler's lifetime warranty. That's hard to beat. If you're in the market for a sling bag, don't buy one until you give The Enthusiast a look.