Shake Shack opened the first of two new stores in the District earlier this month and they opened a few hours early to let me shoot a few food photos on behalf of Washingtonian Magazine. I actually ate one of the first burgers to come off of their grills at the Dupont Circle location.
In addition to the burger and fries, I also shot a hot dog and a vegetarian burger, along with a a new Monu-Mint  shake/concrete made especially for the D.C. market.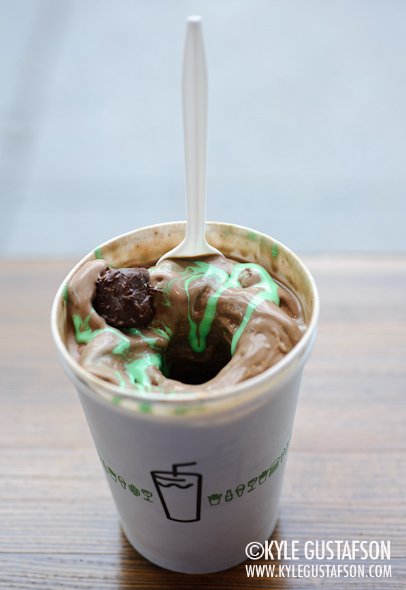 For more photos and coverage, check out:
Shake Shack Opens in DC – Here's a look at his newest Shake Shack in DC's Dupont Circle at 1216 18th Street, Northwest, in a former Fuddrucker's space.
Shake Shack Opens With Half-Hour To An Hour Wait Times – …the scene was, in short, controlled chaos with wait times varying from 30 minutes to an hour for a crowd that was mostly people who work or live in the area.
Shake Shack finally puts D.C. on the map – This was slick, upmarket Americana goodness, a place that serves custard and ice cream, with crinkle-cut fries and burgers neatly tucked inside wax paper sleeves to maximize on-the-go eatability.